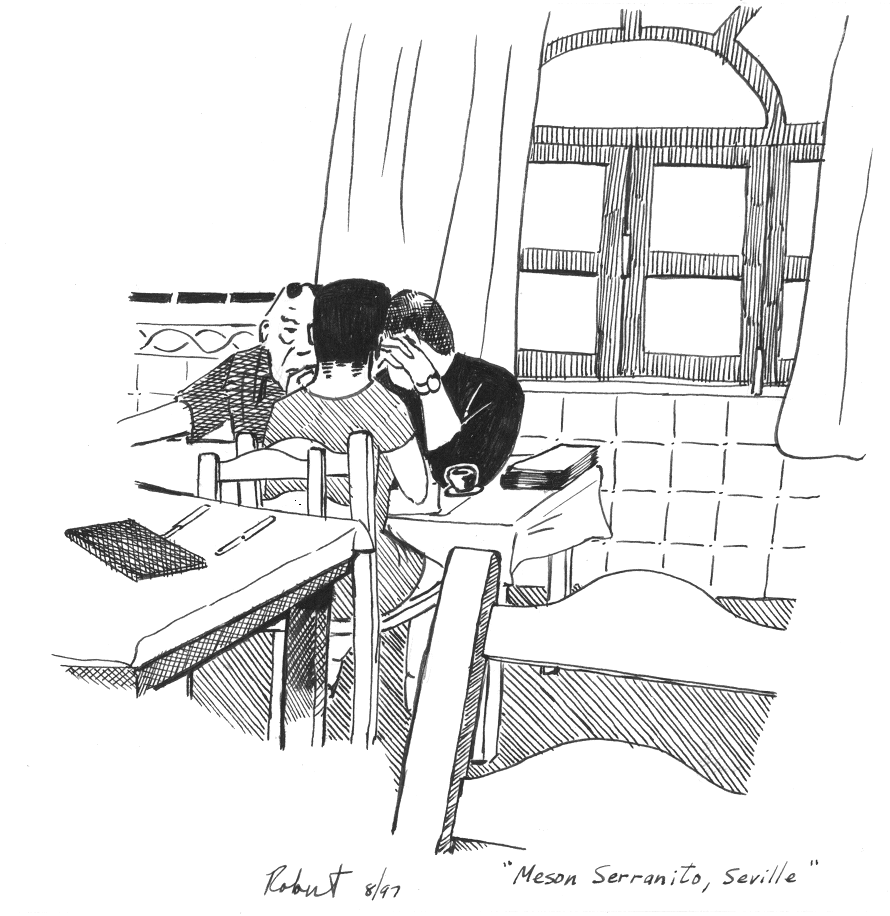 I went to this great restaurant so often when I visited Seville, Spain during August of 1997, that I knew drawing some part of it was inevitable. I looked up this place, "Meson Serranito," in one of those books that Barnes and Noble sells in its travel section, and the review was right on. Here's what drew to this place: basically, the review said that if you've had it with those small 'tapas' portions that Seville is famous for passing off as a real meal, this is the place to go. They were right! This place had the only really good meals I ever found could satisfy my typical American-Super-Sized appetite, and after all the walking I did all over this beautiful city (and don't forget the Roman ruins outside of town, too) I returned to Meson Serranito each evening like a man in a trance! "Food!" Okay, so when I went to buy some great leather belts, admittedly, the salesman noted my size 40 waist and said something about "comidiendo demasiado," but you might find that you need that extra bit of fuel to survive an exhaustive tour of this exquisite historical city.

This drawing was done from my usual seat facing the rear of the restaurant, which was nearly empty on this particularly hot afternoon. The small group seated at the rear table near the window appeared to be deep in conversation. The man with the sunglasses perched on his forehead looked like the big honcho, while the other man and the woman appeared to be trying to act casual, like every word wasn't that important. Out came my pad of French bristol paper and my pencil. I don't think they noticed me one bit.
---
Last update: 9/19/2023 ©2023 Robert Gavila All rights reserved.